Domestic Cleaning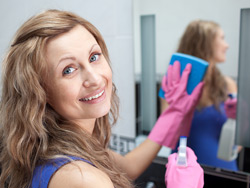 Our operatives are all self-employed and we only hire reliable, trustworthy and dependable individuals who are understanding of our committment to high standards.
They are being invited into your home, and our task is to ensure that they have the integrity, honesty and professionalism that is expected.
There is no minimum term contract. Terms of payment may be discussed and various methods are available to you, Pay only for time used – if your regular cleaner has a holiday, then unless you require a replacement, then no Agency fees will be charged. Similarly if you go on holiday and are not having a cleaning service during that time, then no Agency fees are charged.
Your cleaner is in your home to carry out whatever chores are expected of them – they will happily alter their routine as per your requirements. You will have the same cleaner on each of your regular weekly/fortnightly visits – if for any reason she is unable to attend, a replacement will be offered.
Vetted & Guaranteed
Carefuly selected respectful and reliable staff are chosen, whom we meet and vet initially and references are taken at this personal interview. The same cleaner is offered for each regular visit. Guarantee of satisfaction or free replacement cleaner. Full insurance for accidential damage (see Terms & Conditions).
Your cleaner will have been vetted to ensure that she/he is entitled to work in the UK. We take copies and proof of address, national insurance numbers and any other document that the cleaner can provide to us.
Prior to your cleaner arriving for her 1st visit, a full information pack is forwarded which gives full information including a 'cleaner check/task list' and fuller details of information for getting the best from your cleaner and the best from your agency.
We are a Limited Company and registered for vat. Invoices and receipts are always available.
Cancellation
Your Agreement/Contract will continue as long as you need. Ideally 2 weeks notice is required to enable us to find alternative employment for your cleaner.